Curriculum change in England
The Education Act 2002 asserted certain compulsory subjects (core and foundation) at KS4 and made it mandatory for schools to offer at least one subject in the arts, design and technology, humanities and modern foreign languages (called 'entitlement areas' – see below*).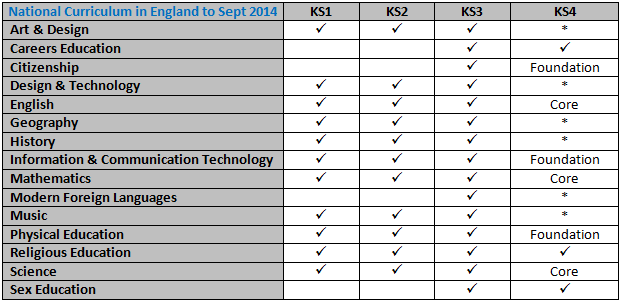 The table above shows statutory subjects. Schools teaching KS1 and KS2 may also have included non-statutory subjects such as citizenship and modern foreign languages.
You can click through to the current curriculum subjects here.
The teaching of each subject is based on 'programmes of study', which set out opportunities that should be offered to all pupils according to their age and ability. These are based around the key words of knowledge, skills and understanding that we're familiar with in attainment targets.
Timetable for change
Changes to England's National Curriculum are being phased in over a number of years. The timelines for Key Stage 4 and Key Stage 5 teaching and examination introductions are linked below, but here's a quick summary:
September 2014
First teaching of primary subjects (exc. English, Maths & Science for Years 2 & 6)

September 2015
First teaching of GCSE English Literature, English Language & Maths
First teaching of most A/AS Level subjects

September 2016
First teaching of remaining GCSE subjects (exc. Design & Technology)
First teaching of remaining A/AS Level subjects

September 2017
First teaching of GCSE Design & Technology
Life After Levels
Pupils in England undertake tests during each Key Stage to assess their academic progress. Until the end of the 2013/14 academic year there was a range of achievable levels for each assessment and an expected level for each too.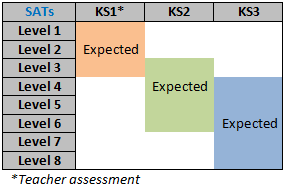 In September 2014 levels were removed and schools now have the freedom to assess their pupils as they see fit outside of national tests. The KS1 test is carried out by teacher assessment, but the Statutory Assessment Tests (SATs) at KS2 and KS3 are marked externally and the results are published by the DfE.


So this must be a good thing if it puts control into the hands of schools and teachers, right?
Well, actually, there's still a lot of confusion. Many schools have continued to use the existing levels framework, as inventing an alternative could prove time consuming and a distraction from teaching. Acknowledging that concern, in December 2013 the DfE announced a competition for schools to propose replacements for levels and in May 2014 the winners were announced; the idea being that other schools would pick up on those new models.


That's the internal attainment measuring covered then. What about Key Stage assessments?
Here we have two changes – 100 scores for primary pupils and Progress 8 for secondary.
"From the academic year 2015-16, we will move from an absolute measure of progress (i.e. two levels of progress required between KS1 and KS2) to a relative measure. At the same time, KS2 test outcomes will be reported as a scaled score, where the expected score is 100. Pupil progress will be determined in relation to the average progress made by pupils with the same baseline (i.e. the same KS1 average point score). For example, if a pupil had an APS of 19 at KS1, we will calculate the average scaled score in the KS2 tests for all pupils with an APS of 19 and see whether the pupil in question achieved a higher or lower scaled score than that average The exact methodology of how this will be reported is still to be determined." The final details will be published by September 2015.
National curriculum and assessment from September 2014: information for schools (GOV.UK)
Progress 8 measures exactly that – pupil progress in eight subjects. The intention is to ensure that schools offer a broad curriculum and don't just focus on the previous league table magic number of achieving 5 A*-C grades (inc. English and Maths). Schools have already been provided with baseline measurements from 2014 performance data to start planning their individual pupil scores for full Progress 8 introduction in 2016. Some schools may elect to start a year early – in 2015 – if they're confident to do so.
This is coupled with the move from letter grades to a numerical framework. GCSEs are moving from A* to G (with a U grade given to unclassified; i.e. failed), and A-Levels from A* to E (and U), to grades 1 to 9 where 9 is the highest. To offer a loose comparison, a 4 will equate to a C and a 7 to an A.