Our People
Our team are dedicated to education. With offices in Kent and Derby, we are ready to help you achieve your goals. So if you aspire to intelligently segmented sales & marketing, rather than just buying or renting a list, please do get in touch.
We've come a long way
The Education Company (EdCo) was formed in 1988 by Jason Gould and David Edwards. The company started life as a consultancy to help large organisations run competitions and events in UK schools. From day one we recognised the vital role data played in the delivery of successful education projects. 
30 years on we have embedded data and business intelligence into all of the products and services we provide to the world of education.
EdCo now employs 50+ people across two sites based in Kent and Derbyshire.
Our Derbyshire team provide data, CRM and Business Intelligence solutions to many of the largest education suppliers.
Our Kent team offer a full-service digital agency for any organisation promoting products, services or events to schools and colleges across the world.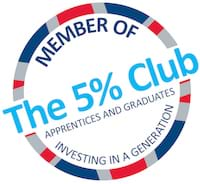 "The Education Company has showcased its commitment to developing its people by joining The 5% Club, an industry led initiative focussed on driving momentum into the recruitment of apprentices, graduates and sponsored students."

The 5% Club